Reusable Produce Bags - 12 Pcs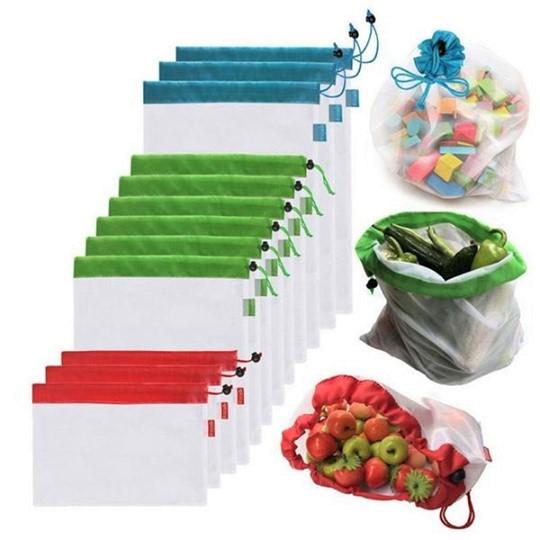 Reusable Produce Bags - 12 Pcs
While grocery stores worldwide are phasing out single-use grocery bags at the till, produce bags still remain. On average, 4 bags per family are used per day, adding up to a staggering 1,500 short-lived bags per year! The harsh realities will catch up to us in the near future...
The average plastic bag is used for 12 minutes. That same bag will take centuries to degrade and may cause irreversible damage to marine life and our oceans. Making the switch to reusables will make a difference - in the health of our planet and the long-lasting freshness of your food. 
Keep your Produce Fresh Longer – Fine mesh design allows for air flow instead of sweating inside the store's plastic bags. The breathability prevents condensation in the fridge and keeps your fruits and vegetables fresh longer guaranteed!
All-around Convenience – The drawstring and poplock allow an effortless, yet secure opening and closing. Easily portable to bring along on your next shopping trip. You may wash the produce directly in these bags and then place them straight into the fridge or freezer.
Built to Last – Made of strong, lightweight, easy-to-see-through mesh polyester. A sustainable alternative to single-use plastic.
Easy to Wash – Throw it in the washing machine to clean! Reusable for grocery and storage.
Safe for Use – BPA free, and food-safe material. May be stored in fridge or freezer.
Multi-functional – Store travel items and almost any household item. Perfect for toys, fruit, coins, medicine, cables, cosmetics, accessories and much more. Use them to keep things together during grocery shopping, camping, fishing, garden harvest, beach, and travels.
Includes: 12 Reusable Produce Bags
3 Small (08 in x 11 in / 20 cm x 31 cm ) - 0.4oz / 14g
6 Medium (13 in x 11 in /

 

33 cm x 31 cm) - 0.7oz / 20g
3 Large (16 in x 11 in /

 

41 cm x 31 cm) - 0.9oz/ 25g